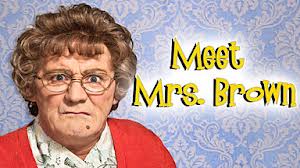 Welcome to the Mrs Brown's Boys Wiki
Edit
Welcome to the Mrs Brown's Boys's wiki, here you can find everything you need to know about Mrs Brown and her family/friends. She has 5 boys and a girl, and is always close to her friend Winnie, or the local priests Father Damien and Father Quinn. Spanning over nearly three series and a number of live performances, Mrs Brown has brought her family together more times than any other comedy.
Behind the scenes:
Edit
Mrs Brown's Boys is a television series run by the BBC and the Irish Television Corporation. It has spanned 3 series, so far, and is due to have another in January. It stars Brendan O'Carroll and some family and friends in the multi award winning show, Mrs Brown's Boys.
Latest news:
Edit
January 27th 2013 - Mrs Brown's Boys D'Movie, was announced.
September 2013 - Mrs Brown's Boys D'Movie is being filmed
27 June 2014 - Mrs Brown's Boys D'Movie was released in the U.K.
Character of the week
Edit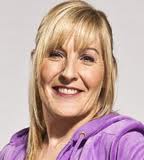 "week 3 - Cathy
Edit
Cathy is the relationshiply troubled only daughter of Mrs Brown. She is a phychologist having been lectured by her ex-boyfriend Prof. Clowne, pronounced "Cloone."
FOR THE FULL ARTICLE SEE: Cathy
Latest activity
Edit
Ad blocker interference detected!
Wikia is a free-to-use site that makes money from advertising. We have a modified experience for viewers using ad blockers

Wikia is not accessible if you've made further modifications. Remove the custom ad blocker rule(s) and the page will load as expected.